Navigator® Tactical Fixed Income Fund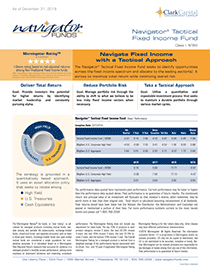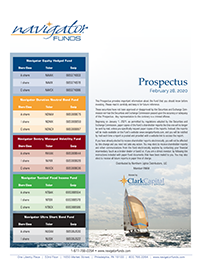 Navigate Fixed Income with a Tactical Approach
As interest rates change, Clark Capital believes investors may benefit from a non-traditional, quantitative approach that targets opportunities and manages risk in fixed income.
Goal: Deliver Total Return
Provide investors the potential for higher returns by identifying market leadership and constantly pursuing alpha.
Goal: Reduce Portfolio Risk
Manage portfolio risk through the ability to shift to what we believe to be less risky fixed income sectors when necessary.
Goal: Take a Tactical Fixed Income Approach
Utilize a quantitative and repeatable investment process that seeks to maintain a durable portfolio through various market cycles.
Ticker/Cusip
Fund Information
Advisor:
Clark Capital Management Group, Inc.
Inception Date: 3/27/2014
Total Annual Fund Operating Expenses:
| A shares | I Shares | C Share |
| --- | --- | --- |
| 1.30% | 1.05% | 2.05% |
The performance data quoted here represents past performance. Current performance may be lower or higher than the performance data quoted above. Investment return and principal value will fluctuate, so that shares, when redeemed, may be worth more or less than their original cost. Past performance is no guarantee of future results. A Fund's performance, especially for very short periods of time, should not be the sole factor in making your investment decisions. To obtain performance information current to the most recent month-end, please call toll-free 1-877-766-2264.
What You Pay Now:
| A shares | I Shares | C Share |
| --- | --- | --- |
| 1.29% | 1.04% | 2.04% |
"What you pay" reflects Clark Capital's decision to contractually limit expenses through 2/28/2024.
Minimum Investment Amount:
| A shares | I Shares | C Share |
| --- | --- | --- |
| $5,000 | $25,000 | $5,000 |
Annual Trail Commission
(12b-1):
A shares
(3.75% Load)
I Shares
C Share
0.25%
None
1.00%
Transfer Agent: Gemini Fund Services LLC.
Distributor: Northern Lights Distributors LLC.
Custodian: BNY Mellon
Registered in all 50 States and DC & PR.
NSCC Participant Number: 5394
(Levels 0-4)
Important Risk Information
An investment in the Fund(s) is subject to risks, and you could lose money on your investment in the Fund(s). There can be no assurance that the Fund(s) will achieve its investment objective. Your investment in the Fund(s) is not a deposit in a bank and is not insured or guaranteed by the Federal Deposit Insurance Corporation (FDIC) or any other government agency. The fund uses exchange traded product based upon the CBOE S&P 500 Volatility Index (VIX) to hedge the portfolio which can limit the opportunity to participate in the gains of portfolio holdings in positive markets. The Fund(s) also has specific principal risks, which are described below. More detailed information regarding these risks can be found in the Fund's prospectus. The principal risks of investing in the Navigator Tactical Fixed Income Fund include: equity securities risk, growth stock risk, value stock risk, foreign securities risk, emerging markets risk, small and mid-sized company risk and portfolio selection risk. As a result of political or economic instability in foreign countries, there can be special risks associated with investing in foreign securities, including fluctuations in currency exchange rates, increased price volatility and difficulty obtaining information. In addition, emerging markets may present additional risk due to potential for greater economic and political instability in less developed countries. Small-cap and mid-cap companies may be more vulnerable than larger, more established organizations to adverse business or economic developments. The Fund invests in exchange traded funds (ETFs) and performance is subject to underlying investment weightings which will vary. ETFs are subject to expenses, which will be indirectly paid by the fund. The cost of investing in a Fund that invests in ETFs will generally be higher than the cost of investing in a Fund that invests directly in individual stocks and bonds. Clark Capital Management Group, Inc. and Northern Lights Distributors, LLC are not affiliated. Exchange traded notes (ETNs) are unsecured obligation of the issuer and are not secured debt. ETNs are riskier than ordinary unsecured debt securities and have no principal protection. ETNs include limited portfolio diversification, trade price fluctuations, uncertain principal repayment, and illiquidity. Investing in the ETNs is not equivalent to investing directly in an index or in any particular index components. The investor fee will reduce the amount of your return at maturity or on redemption, and as a result you may receive less than the principal amount of your investment at maturity or upon redemption of your ETNs even if the level of the relevant index has increased or decreased (as may be applicable to the particular series of ETNs). An investment in an ETNs may not be suitable for all investors. Investing in ETPs based upon VIX futures may be subject to greater volatility than investments in traditional securities, which may adversely affect an investor's investment. VIX futures indexes are mean reverting; ETPs benchmarked to them should not be expected to appreciate over extended periods.
About the Lipper Award
The Thomson Reuters Lipper Fund Awards, granted annually, highlight funds and fund companies that have excelled in delivering consistently strong risk-adjusted performance relative to their peers. The Lipper Fund Awards are based on the Lipper Leader for Consistent Return rating, which is a risk-adjusted performance measure calculated over 36, 60 and 120 months. The fund with the highest Lipper Leader for Consistent Return (Effective Return) value in each eligible classification wins the Lipper Fund Award. For more information, see lipperalpha.financial.thomsonreuters.com/lipper Although Lipper makes reasonable efforts to ensure the accuracy and reliability of the data contained herein, the accuracy is not guaranteed by Lipper.
Awards and rankings are only one form of performance measurement.
Standard Deviation: A statistical measure of performance fluctuations-generally the higher the standard deviation, the greater the expected volatility of returns. Standard deviation, a historical measure, cannot be used to predict fund performance.
Correlation: A statistical measure of how two securities move in relation to each other.
Beta: Measures a fund's sensitivity to market movements by comparing a fund's excess return (over a benchmark) to the market's excess return. By definition, the beta of the market is 1.00. For example, a beta that is lower than 1.00 would normally indicate that a fund's excess return is expected to be above the market's excess return in a down year and below in an up year. However, beta is a measure of historical volatility and cannot predict a fund's actual volatility.
Before investing, carefully consider the Fund's investment objectives, risks, charges and expenses. Contact 800.766.2264 for a prospectus containing this and other information. Read it carefully.
Clark Capital Management Group, Inc. and Northern Lights Distributors, LLC are not affiliated.
The Fund's primary benchmark is the Barclays U.S. Corporate High-Yield Index. The Barclays U.S. Corporate High-Yield Index measures the market of USD-denominated, non-investment grade, fixed-rate, taxable corporate bonds. Securities are classified as high yield if the middle rating of Moody's, Fitch, and S&P is Ba1/BB+/BB+ or below, excluding emerging market debt. The Barclays U.S. Corporate High-Yield Index was created in 1986, with history backfilled to July 1, 1983, and rolls up into the Barclays U.S. Universal and Global High-Yield Indices. The Fund's secondary benchmark is the Barclays US Aggregate Bond Index. The Barclays US Aggregate Bond Index covers investment grade bonds being traded in United States. It is an unmanaged market value-weighted index for U.S dollar denominated investment-grade fixed-rate debt issues, including government, corporate, asset-backed, and mortgage-backed securities with maturities of at least one year. The Barclays US Aggregate Index was created in 1986 with history backfilled to January 1, 1976.
Terms of Use
The views provided on this Web site are intended to provide the investor with an introduction to Clark Capital Management Group, Inc. and its investment strategies and the Navigator Tactical Fixed Income Fund. Nothing on this website should be construed as a solicitation or offer, or recommendation, to buy or sell any security, or as an offer to provide advisory services by Clark Capital Management Group, Inc. in any jurisdiction in which such solicitation or offer would be unlawful under the securities laws of such jurisdiction. Information on this website is intended only for United States citizens and residents. Nothing contained on this website constitutes investment, legal, tax or other advice, nor should be relied upon in making an investment or other decision. You should obtain relevant and specific professional advice before making any investment decision. Shares in the Navigator Tactical Fixed Income Fund are offered by prospectus only.
Linked Websites
Clark Capital may provide access to information, products, or services offered on websites that are owned or operated by other companies ("third-party websites"). We provide this access using hyperlinks that automatically move you from a Clark Capital website to the third-party site.
Data and other materials appearing on this site that are obtained from third parties are believed by Clark Capital to be reputable sources, but Clark Capital cannot guarantee and is not responsible for their accuracy, timeliness, completeness, or suitability for use. Clark Capital is not responsible for, and does not prepare, edit, or endorse, the content, advertising, products, or other materials on or available from any website owned or operated by a third party that is linked to this Site via hyperlink. The fact that Clark Capital has provided a link to a third party's website does not constitute an implicit or explicit endorsement, authorization, sponsorship, or affiliation by Clark Capital with respect to such website, its owners, providers, or services. You will use any such third-party content at your own risk and you agree that Clark Capital is not liable for any loss or damage that you may suffer by using third-party websites or any content, advertising, products, or other materials in connection therewith.
When you visit a third-party website by using a link on Clark Capital's site, you will no longer be protected by the Clark Capital privacy policy or security practices. The data collection, use, and protection practices of the linked site may differ from the practices of Clark Capital sites. You should familiarize yourself with the privacy policy and security practices of the linked website. Those are the policies and practices that will apply to your use of the linked website, not the Clark Capital policies and practices.